Safe Water Damage Restoration in East Brunswick
3/22/2023 (Permalink)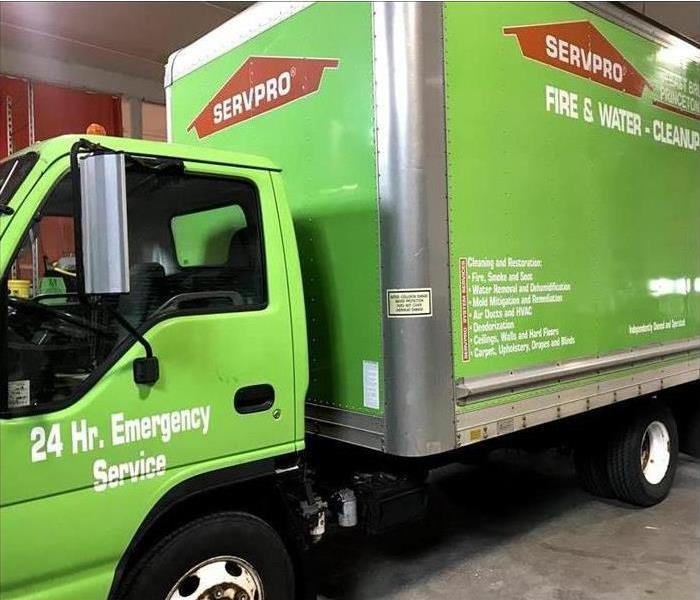 SERVPRO safety and water damage cleanup go hand-in-hand for our East Brunswick customers. Our trucks are stocked and ready to help.
How SERVPRO Technicians Perform Expert Water Damage Cleanup
Water intrusion can take a heavy toll on your property and emotional well-being. Usually caused by bursting pipes, the impact caused by excessive quantities of liquid entering an indoor environment can be catastrophic. One of the most valuable responses to a home emergency is to enlist the help of professional services.
No two water damage restoration jobs in East Brunswick are the same. Residential properties vary significantly in their structural layout, the construction materials, and the electrical system in place. The huge differences between properties make extensive training and experience necessary when approaching a restoration project. It is essential to assess a structure for hazards before performing any water damage mitigation. Older properties may have dangerous building materials such as asbestos which should not be disturbed without a professional abatement team. If the property is exposed to moisture for a long time, there is a strong chance of mold growth or other microorganisms like bacteria and viruses.
Making sure that a property is safe before performing mitigation is crucial. Hazards to look out for could include sagging ceilings, indicating a potential structural collapse. Light fixtures can also build up water which presents an electrical risk. Other applicable precautions include wearing personal protective equipment (PPE) and using ground fault circuit interrupters on all equipment and electronics. Wet properties are inherently precarious while bringing in industrial restoration equipment, portable lighting, or generators can complicate matters further. We take extra time to ensure that wiring for equipment is taped down to avoid trip hazards and that wires are grouped to avoid electrical hazards.
Water conducts electricity which means extra care must be taken when entering a wet property.
Inspecting light fixtures and power distribution panels for wetness is critical to safety scoping a building.
Before entering affected areas, all circuits relating to water damaged rooms should be shut off at the power distribution panel.
Another potential hazard in wet properties is infectious waste. Contamination can be brought into a property via an unclean water supply. Pre-existing microbes or damages like rust can be amplified by moisture resulting in contamination even from clean supply lines. When working in a wet area, it is essential to avoid potential puncture wounds that could be caused by exposed nails found in carpet tacks, broken glass, or other sharp objects. The safety procedures to follow in an affected area is to avoid eating or drinking and remove yourself from the site if you suffer from cuts, scratches, or other open wounds. Containment to clean equipment and regular area disinfecting before performing extraction or other restoration activities is critical to ensuring a safe workspace. Proper PPE like thick rubber boots, goggles, and chemical-resistant gloves are essential.
Working Safely in a Wet Environment
Cleaning equipment after usage and between rooms can help to reduce the risk of cross-contamination.
Clothing worn during restoration should be cleaned separately from regular clothing using powerful cleaning products.
Debris should be placed in thick, waterproof trash bags that can be transported out of the property safely.
Safety is crucial to efficient restoration. Contact SERVPRO of East Brunswick / Princeton Meadows for water damage restoration at (732) 641-4023.